To the patients and families of Opal Court Pediatrics,
We at Opal Court Pediatrics hope you and your loved ones are staying safe and healthy. We wanted to reach out to make sure you are doing everything you can to stay safe from COVID-19. With this in mind, the doctors, nurses, and staff at Opal Court Pediatrics encourage you to get the COVID-19 vaccine when it is available to you.
The Washington County Health Department is holding a free COVID-19 vaccination clinic in the parking lot of Opal Court Pediatrics on Thursday, July 29th. This event is open to the public for ages 12 and older. They will be offering the Pfizer vaccine with second doses being given Thursday, August 19th. Walk-ins welcome but we encourage you to save time by registering with the links listed below.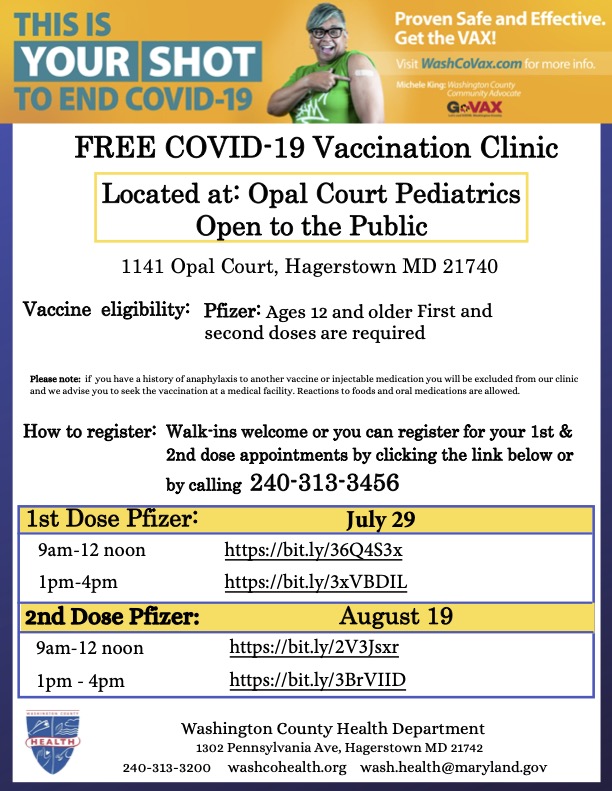 We're encouraging all of our patients to get the vaccine because we've reviewed the evidence that shows they are safe and effective. We also believe that it is one of the best ways that our patients can protect themselves and their family from getting sick with COVID. We are all so thankful that we have the opportunity to get the vaccine because we can now look forward to the future with the hope that we can safely return to the things we love to do with our loved ones.
If you've already been vaccinated, we celebrate with you! We may not have your COVID-19 vaccine in our records so please bring your immunization card to your next appointment.
Please reach out to our office if you have any questions and stay safe!
Take care,
Opal Court Pediatrics